Welcome Deck 2017/Welcome decks
Welcome Decks 2017 are five monocolored thirty-card ready-to-play sample decks, consisting of basic lands, commons, 2 uncommons and 1 rare.[1]
Besides the Welcome Deck 2017 cards the decks also contain cards from Kaladesh, Aether Revolt and Amonkhet.
The decks are available for free at Wizards Play Network locations and for sale as part of the Amonkhet - and Ixalan Booster Battle Packs.
All decks include 1 Rules Reference Card.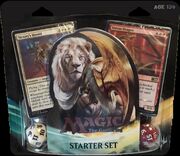 A repackaging with two of the five decks and two life counters was sold as a Starter Set in December 2017. This 2-Player Starter Set for Magic: The Gathering was presented as a learn-to-play product aimed at new players. It was available in local game stores and mass-market stores, for an MSRP of $9.99.[2]
The poor quality of the packaging and the fact that it contained decks that previously were given out for free created doubts if this was an official Wizards of the Coast product.[3] However, it would later be further developed in the Spellslinger Starter Kit and the Arena Starter Kit.