In the next few weeks, your wiki will be migrated to a Fandom.com domain. Learn more here.
Rune Horvik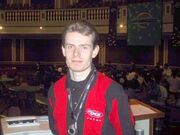 Rune Horvik is a Norwegian former level-4 DCI judge and tournament organizer for Magic: The Gathering.[1][2][3]
Horvik contributed to Saturday School, a question and answer column that ran on Magicthegathering.com from October 2002 to July 2006. Nowadays, he is a Senior Business Analyst at Goucher College, Maryland.