Ramirez DePietro
Ramirez DePietro was a flamboyant pirate from Dominaria, who pillaged the seas surrounding Jamuraa around 3000 AR. He had a past with Adira Strongheart which was left purposely vague. Ramirez and Tor Wauki later fought against the Robaran Mercenaries before being pitifully defeated.
Ramirez DePietro's likeness also appeared nearly a thousand years later when his form was assumed by the shapeshifter Halfdane. Halfdane claimed to have killed the original DePietro, but this is widely regarded as a fluke of continuity, as DePietro would have died almost a thousand years previous to the events in question.
Ramirez is a Spanish family name, Di Pietro (that Americans would write "De Pietro", as Di Niro became De Niro in the States) is a South-Italian family name, but South Italy was ruled by Spain until 1860. Therefore, the name of this character is definitely Spanish (to be precise: South Italy was part of the Kingdom of Spain until 1714, then it became an independent kingdom until 1860, but still with kings and nobility mostly from Spain).
Ramirez DePietro has two family names, but no first name, as it is often usual in the United States (e.g. think of MacKenzie Hamilton or Kendall Jenner).
Represented in:
The 2008's April's Fools Duel Decks: Pirates vs. Ninjas featured a promotional card for Ramirez DePietro: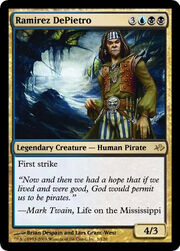 Sets
Supplemental
Dominaria storyline

Novels

Comics

Art books

Main locations

Characters & Affiliations

Major events