In the next few weeks, your wiki will be migrated to a Fandom.com domain. Learn more here.
Mist Moon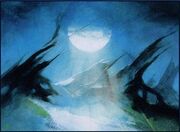 The Mist Moon is Dominaria's large, natural moon, not to be confused with the Null or Glimmer Moon.
Every twenty-eight days, when the Mist Moon reaches its full phase, devotees of Svyelun are obligated to spend the night in ritual contemplation.[1]