Magic Celebration
Magic Celebration was a yearly Magic: The Gathering one-day tournament organized by the DCI on the first or second Saturday of September. The tournament was played in local game and hobby stores around the world, a month after the Core set Game Day. Celebration events used a special format and were free of charge. The event was originally designed to get DotP players into stores for the first time.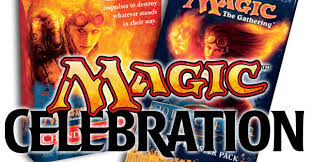 The first Magic Celebration is said to have taken place in 2010.[1] No further information is to be found online.
Each Magic Celebration player received one Magic 2012 Booster Pack (while supplies lasted) and then played a so-called Mini-Master event.[2] After the players had received a booster pack, they had to remove the basic land and the token card, without looking at the contents. They then added in three of each basic land and shuffle up to play a game of Magic just like normal. Each time a player would win a match, they'd get a new booster pack to add to their deck. Once they added their second booster pack, deck-construction rules reverted to the normal rules for Limited decks, which meant they could modify their deck contents and add more lands as desired, so long it contained at least forty cards.
Players played a Mini-Master tournament adding a booster for every match won.[1]
Each player received one Core Set booster pack and achievement card. After opening their booster pack, they choose a color of cards they to play. They then choose a Core Set Sample Deck of the appropriate color to add the cards from their booster pack to.[3]
After playing three best-of-three matches with different opponents players could show their completed score card (on the back of the achievement card) to the tournament organizer to receive an additional booster pack as a prize. Players participating in a Magic Celebration event could also receive a code from their participating retailer for downloadable content for Duels of the Planeswalkers.
The event was silently killed.