Kush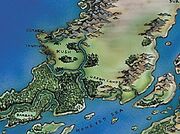 Kush is a nation of southwestern Aerona, on the plane of Dominaria.[1] It lies south of the Tonga Mountains. north of Barbar and west of the Green Lands.
Kush is primarily known for the Festival of Estark.[2] Leshrac Nightwalker dominated part of it before being imprisoned in Phyrexia.
Farndrel
Tantium, a port city
Gish, a quiet place with vineyards in the countryside.
Originally there were five Houses in Kush. Each one have its own color which is used as a synonyme to the name of a House. Between time of the Night of Fire and Time of Troubles House Oor-tael was destroyed. Each House has its Master and wizards of lower ranges.