Jedit Ojanen
Jedit Ojanen was a tiger warrior from Efrava on Dominaria.
Jedit was quite of an adventurous nature (similar to his father, Jaeger Ojanen), and instead of staying in Efrava, he traveled the world, searching for the fate of his father. This eventually led him to conflict with the wizard Johan (who was in fact responsible for Jaeger's death) and to joining the ranks of the Robaran Mercenaries, becoming a friend of Adira Strongheart and Hazezon Tamar.
Jedit appeared in the set Planar Chaos as an alternate reality version of his character, Jedit Ojanen of Efrava. Instead of the original white-blue alignment, this incarnation is green and was fiercely loyal to his home. This Jedit stalked the forest oasis of Efrava as though he were king. He fiercely defended his realm from trespassers, fighting for dominance and honor.[1]
Represented in:
Associated cards:
Depicted in: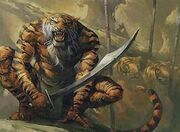 Sets
Supplemental
Dominaria storyline

Novels

Comics

Art books

Main locations

Characters & Affiliations

Major events