Fandom Legends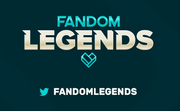 Fandom Legends is a sponsored weekly Magic tournament series that is played on MTG Arena in 2019.[1]
Fandom, formerly Wikia, is a for-profit wiki hosting service that powers essential parts of the Magic community, including the MTG Wiki you are reading right now. When they purchased Curse Media in December, 2018, Fandom also acquired Curse Trials, a tournament series that featured PlayerUnknown's Battlegrounds, Hearthstone, and Overwatch. It was renamed Fandom Legends and now hosts weekly Smash Ultimate and MTG Arena tournaments on Twitch at twitch.tv/fandom.
Fandom started their weekly $4,000 MTG Arena tournaments in April, 2019, in order to further engage the communities of the game that that the company has properties in.[1] Their goal is to host these tournaments weekly, every Thursday, and potentially support qualifier tournaments so anyone can qualify to play in them. For now, though, the tournament series will remain invite-only because of the lack of a spectator mode in MTG Arena, which means that Fandom must rely on players' streams in order to provide coverage of the events. The 16 players invited to eache event are a mix of Magic Pro League members and streamers.
References
[
edit
]
External links
[
edit
]