In the next few weeks, your wiki will be migrated to a Fandom.com domain. Learn more here.
Estark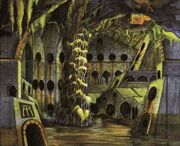 Estark was a city ruled by the Grand Master of the Arena in the land of Kush on Aerona on Dominaria. It held the yearly Festival of Estark.[1]
Estark has declined since the Time of Troubles. Many of its citizens now live modestly in the countryside.[2] In the Mending Era, Estark has been conquered by Benalish troops under command of Knight-Commander Aryel.[3]