As part of the Unified Community Platform project, this wiki and 38 others will be migrated to the new platform in the next few weeks. Minimal changes are expected as part of this migration. Read more here.
Duel Decks Anthology
This article is about the Duel Decks Anthology. For other uses, see Anthology.
Duel Decks Anthology (sometimes erroneously referred to as Duel Decks: Anthologies [2]) is a compilation collector's set that combines the first four Duel Decks all in post Magic 2015 card frames. It was released on December 5, 2014.[3][4] Duel Decks Anthology will have an MSRP of $99.99 and will not be released on Magic Online.[1]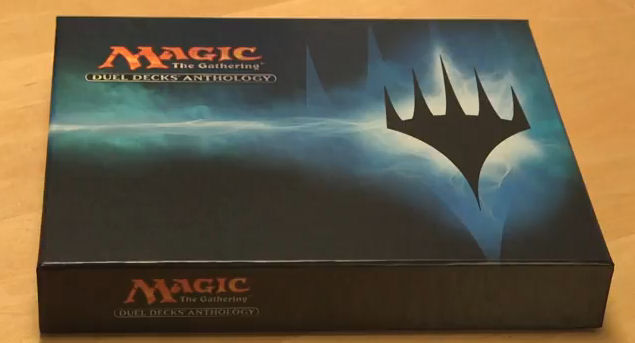 Duel Decks Anthology contains 35 tokens with regular Magic card backs, packaged within four of the decks.[5]
3 1/1 Spirit with flying (for the Divine deck)
Magic: The Gathering
sets
Special sets
Special series

Supplemental sets

Starter sets

Un sets

Commemorative sets
Planeswalkers
Factions
Others