Core Set 2021/Welcome booster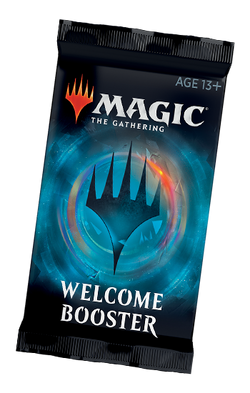 Welcome Boosters were introduced for Core Set 2021. These are samplers, given away for free to new players to show off the coolest aspects of the game.[1][2]
The Welcome Booster contains ten cards. Each Welcome Booster is exactly the same and contains a sample of legendary creatures, planeswalkers, rares, foils, showcase cards, and more. It also contains a double-sided helper card that contains tips on how to get started, find stores, and learn a lot more about the game.[3] Some cards appear in the Welcome Booster but do not appear in Core Set 2021. They have their original expansion symbol. This printing has no effect on their legality.
In addition, a MTG Arena code card in the Welcome Booster provides a code for the Critter Corps deck in MTG Arena.
Rares