In the next few weeks, your wiki will be migrated to a Fandom.com domain. Learn more here.
Commander 2020/Enhanced Evolution
Enhanced Evolution is a 100 card Commander preconstructed deck with a mutate theme, featured in Commander 2020.[1][2]
Enhanced Evolution is Sultai colored (



). The primary commander is Otrimi, the Ever-Playful, and the secondary commanders are Zaxara, the Exemplary and Cazur, Ruthless Stalker partnered with Ukkima, Stalking Shadow.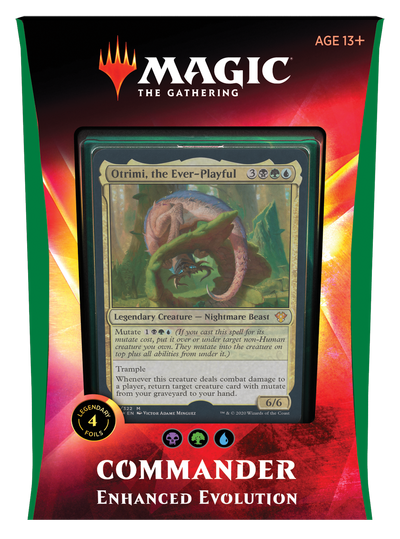 The new cards in the deck are:
Cards that were printed in the simultaneously-released Ikoria: Lair of Behemoths expansion, and thus use the Ikoria expansion symbol, are:
The deck comes with 10 double-faced tokens:[3]