In the next few weeks, your wiki will be migrated to a Fandom.com domain. Learn more here.
Commander 2019/Primal Genesis
Primal Genesis is a 100 card Commander preconstructed deck with a populate theme, featured in Commander 2019. It is Naya colored (



).[1] The primary commander is Ghired, Conclave Exile, and the secondary commanders are Atla Palani, Nest Tender and Marisi, Breaker of the Coil.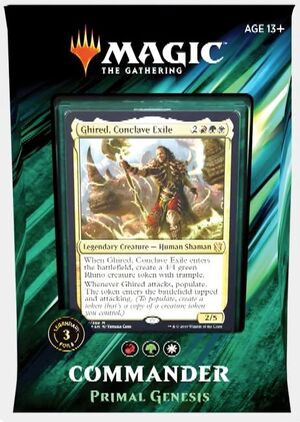 The new cards in the deck are:
Reprints with new art:
The deck comes with 10 double-faced tokens:
4/3 Manticore Zombie (Embalmed token for Heart-Piercer Manticore) — 5/5 Dragon with flying
3/4 Bird (#1) with flying — */* Sculpture with "This creature's power and toughness are each equal to the number of Sculptures you control"
3/3 Bird (#2) with flying — */* Sculpture with "This creature's power and toughness are each equal to the number of Sculptures you control"
4/4 Beast (#14) — 6/6 Wurm
3/4 Gargoyle with flying — 0/1 Egg with defender
10/10 Eldrazi — 0/1 Egg with defender