In the next few weeks, your wiki will be migrated to a Fandom.com domain. Learn more here.
Commander 2019/Merciless Rage
Merciless Rage is a 100 card Commander preconstructed deck with a madness theme, featured in Commander 2019. It is Rakdos colored (


).[1] The primary commander is Anje Falkenrath, and the secondary commanders are Chainer, Nightmare Adept and Greven, Predator Captain.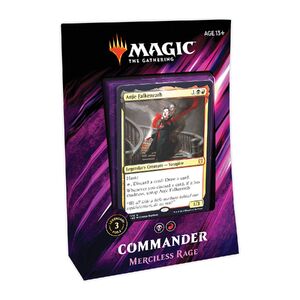 The new cards in the deck are:
Reprints with new art:
The deck comes with 10 double-faced tokens: